AIRASIA X TROPICANA GARDENS MALL REDEMPTION
Congratulations, please follow the steps to redeem your voucher!
Step 1: Download 'BIG Rewards' from your phone app store (IOS / Android)
Step 2: Log in 'BIG Rewards'
Step 3: Proceed to 'My Profile' and click 'BIG Points Code'
Step 4: Enter your use code from your redeemed voucher
Step 5: Claim your BIG Points and you're ready to go!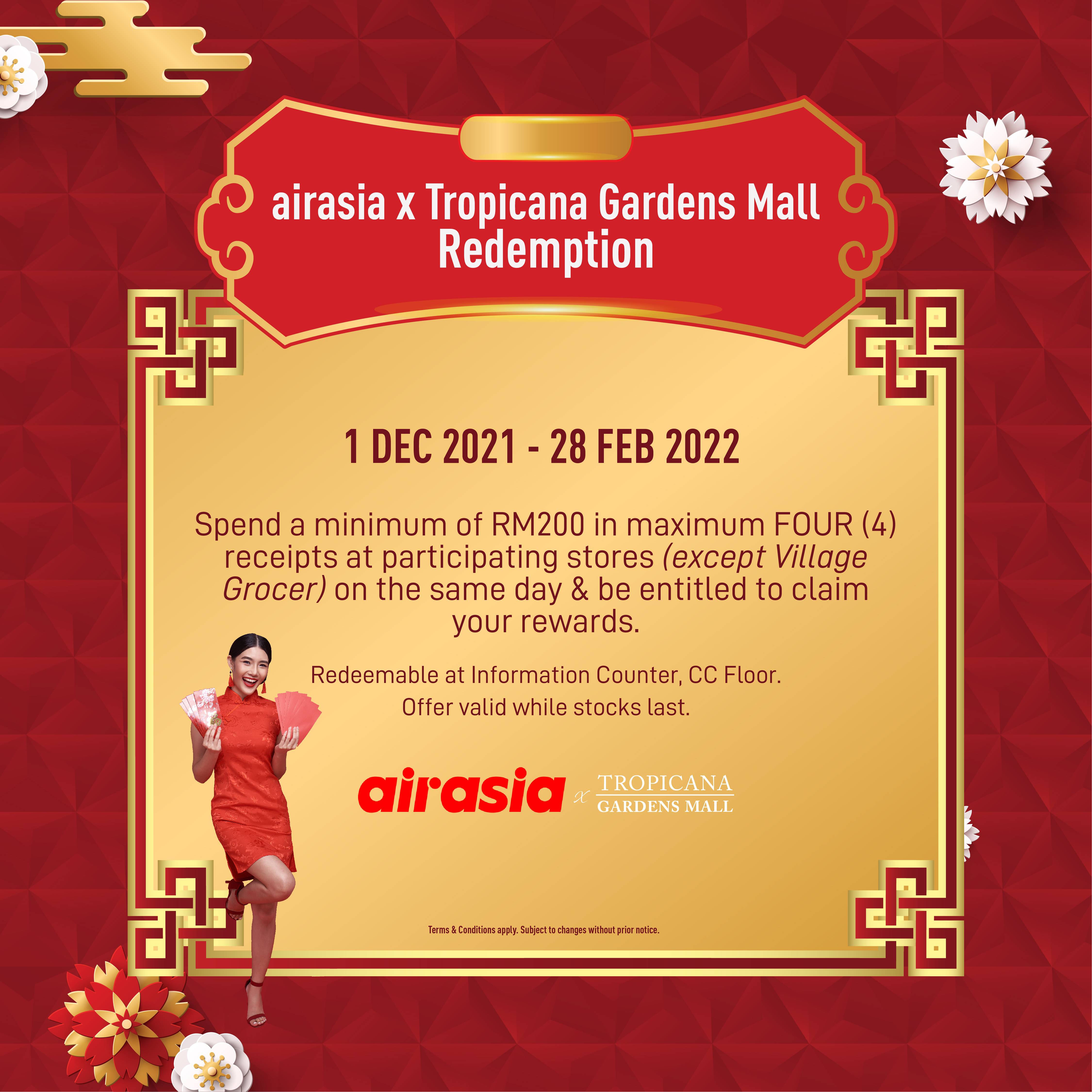 AIRASIA X TROPICANA GARDENS MALL REDEMPTION
Terms & Conditions
The redemption is open to all shoppers, who spend RM200 and above in maximum four (4) transaction slips in between on the same date of the redemption at any store (exclude Village Grocer & temporarily vendors) start from 1st December 2021 onwards.
Tenants' employees include their immediate family members (their parents, spouses, children, siblings, and their respective spouses) are NOT allowed to participate in this game.
Limited quantity, while stocks last and on first-come-first-served basis.
Shopper can only redeem for him/herself and may not redeem for anyone other than him/herself and limited to per shopper per day.
Redemption form(s) must be filled in completely and clearly; any incomplete entry forms will be rejected.
Shoppers will receive a token to draw a reward in the vending machine, shopper will get either reward as per below;

1. Airasia Points, OR

2. RM20 Tropicana Gardens Mall Cash Voucher (F&B Vouchers)

Redemption is from 10.00am–10.00pm daily, must redeem at Information Counter, CC Floor from 1st December 2021, or while stocks last.
All redemption claims must be submitted with attachment of original sale transaction receipts (credit card, debit card, e-payment or cash); any redemption claim with photocopy/duplicated receipts will be rejected.
The Management reserves the right to amend these Terms and Conditions at any time without prior notice.
The Management reserves the right to terminate / vary / withdraw / substitute any mall promotion at any time, without prior notice and without having to disclose any reason therefore and without any payment or compensation whatsoever.
The Management reserves the right to use the participant's details name, data and email, likeness, image, voice, appearance and performance whether recorded on or transferred to videotape, film, slides, photographs, audio tapes, or other media, now known or late developed (herein referred to as the "Advertising Materials"). This right of use the Advertising Materials shall include but not limited to the right to edit, mix or duplicate and to use or re-use the Advertising Materials in whole or part as The Management may elect for the purpose of advertising and promotion. The Management or its designee shall have complete ownership of the Advertising Materials in which the participant appears, including copyright interest, and the participating acknowledges that he/she has no interest or ownership of its copyright.
Call Information Counter at 012-715 8988 for more details.
Acknowledgement & Indemnity Clause
I, the undersigned, acknowledge the receipt of the abovementioned terms and conditions. I have fully read, understood and accepted the terms and conditions of the redemption. I further understand that The Management is merely a facilitator of the Luxury Treat and I shall take part in the redemption at my own risk and expense. The responsibility lies solely on myself to ensure my own personal health, safety and security at all times during any events or activities carried out by The Management. I hereby release the Management from any liabilities in the event that I incur or suffer any types of loss, damage, injury and fatality howsoever incurred during or after the said events or activities including but not limited to any of loss, damage, injury and fatality incurred or suffered from the usage and/or possession of the prizes received by virtue of my participation in the redemption. I shall further indemnify The Management for any losses, damages, claims, demands, actions, proceedings, prosecutions, fines, penalties, costs, expenses and/or liabilities, personal injury or loss of life howsoever incurred and suffered by any third parties if caused by the actions of my participation during or after the event whether negligently or otherwise.